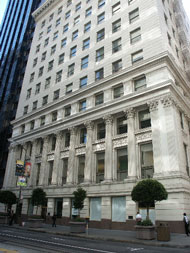 433 California Street, San Francisco, California
11 story historical office building. Van Brunt Associates at risk construction management during a $10 million comprehensive renovation program. The work included asbestos and lead abatement, seismic strengthening, restoration of the exterior facade and upgrading of all core systems, including mechanical, electrical, plumbing and fire and life safety. Van Brunt Associates also provided construction management services for the related tenant improvement work.
Civic Center Place, Fremont, California
Van Brunt Associates provided ground up construction management services for the joint venture partnership Our work involved at risk CM services including construction cost, documentation for an institutional joint venture client, validated change orders, and assisted with the negotiated dismissal of a prime consulting firm. Van Brunt Associates performed construction management of all original tenant improvements and has ongoing construction management responsibility for all retenanting.
Nine West Headquarters, Cincinnati, Ohio
Our client acquired this 300,000 square foot, three-story vacant office building. Van Brunt Associates was engaged to plan and manage the extensive base building renovation and all tenant improvements. The renovation included exterior skin replacement, HVAC central plant replacement, fire code upgrades, new entry lobby, and common area improvements.