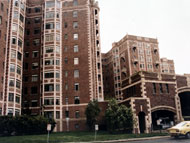 Alden Park Apartments, Philadelphia, Pennsylvania
575 unit, three building, multi-family apartments listed on the National Historical Registry. Van Brunt Associates inspected the entire complex for a confidential institutional client who wanted to acquire and renovate the buildings and grounds. The comprehensive due diligence work included thorough building inspections, cost estimating, and environmental inspections. After discovering major environmental liabilities and structural problems estimated at approximately $8 million, our client backed out of the deal.
466 Townsend Street, San Francisco, CA
Three story, 150,000 square foot industrial building. Van Brunt Associates performed construction loan draw inspections and consulting. Van Brunt Associates was engaged as an expert witness to document timing, sequence and validity of numerous change orders and other serious construction related problems.
Smith Towers, Seattle, Washington
Van Brunt Associates was engaged by a court appointed receiver to perform an overall building inspection and conceptual cost estimate to be used for risk analysis and a potential sales/disclosure package. This 25-story historical building was constructed by the founder of the Smith/Corona typewriter company and contains unique bronze and clear glass elevator shaft enclosures.