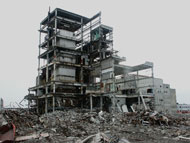 Confidential Industrial Client
155-acre industrial plant and manufacturing facility. Van Brunt Associates represented the Owner during construction litigation and regulatory environmental investigation and litigation. Van Brunt Associates performed site characterization services retrieving over 500 samples, produced an environmental clean-up plan, and obtained regulatory approval for the clean-up process.
The Ferry Building, The Embarcadero, San Francisco, California
This 300,000 square former historical ferry terminal building was constructed in 1898. Van Brunt Associates performed environmental inspections, sampling and remediation design to prepare the building for extensive renovation and adaptive reuse. Van Brunt Associates developed specifications, construction schedule and CAD drawings for this work. Van brunt Associates performed observation, oversite and clearance services for the $2 million environmental remediation program.
Los Cabos Country Club, Cabo San Lucas, Mexico
Client was acquiring an existing residential development and country club with accompanying golf course. Van Brunt Associates provided due diligence inspection services including inspection of the onsite wastewater treatment plant. The client was concerned about repairs and restoration efforts after a devastating hurricane severely damaged the entire project. Van Brunt Associates consulted on environmental mold contamination after the massive flooding as a result of the hurricane.